British Mummy Bloggers' carnivals are very popular events - I haven't managed to host one yet and the schedule is well into next year!
The latest carnival is hosted by
Very Bored in Catalunya
, which boasts a very pretty donkey button (see below). Right now I'd love to be bored in Spain, it's freezing today in old Blighty and the only cheerful thing in sight is a row of daffodils in my back garden.
On the positive side I'm not bored - there is lots to do in Cambridge and I'm looking forward to the
Cambridge Science Festival
, which was great fun last year. Michela and I even donned white coats and goggles to experiment with acids!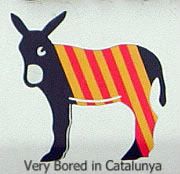 So if blog carnivals are your thing, just head to
British Mummy Bloggers
... It's such a varied collective that there is bound to be a blog that speaks to you!